Jum'at - 11/5
Latihan Bebas 1
Latihan Bebas 2
Sabtu - 12/5
Latihan Bebas 1
Latihan Bebas 2
Kualifikasi
Minggu - 13/5
Pemanasan
Balapan
Informasi Sirkuit:
Round Number:
6
Tanggal Balapan:
13-05-2001
Negara:
Austria
Kota:
Spielberg

(click for location map)
| | | |
| --- | --- | --- |
| Circuit Name: | A1-Ring | |
| Circuit Length: | 4326 m. | |
| Number of Laps: | 71 | |
| Race Length: | 307.146 m | |
| | | |
| --- | --- | --- |
| 2000 Pole Position: | Mika Häkkinen | |
| 2000 Winner: | Mika Hakkinen | |
| 2000 Fastest Lap: | David Coulthard | |
KEINDAHAN TAK TERDUGA
A1-Ring tercatat sebagai salah satu sirkuit modern dengan keindahan panorama menakjubkan. Namun ia juga kerap memenangkan pembalap yang tak terduga.
Pertama kali dilaunching dengan nama Osterreichring pada 1969, sirkuit ini segera menggelar F1 tahun depannya. Saat itu, pahlawan lokal Jochen Rindt amat dijagokan menang lantaran sudah amat hafal karakter trek.
Namun Jacky Ickx yang baru sekali turun ke situ, malah mengasapinya. Lebih tragis lagi, Rindt tak punya kesempatan membalas karena tewas di Monza beberapa minggu kemudian.
Sampai tahun lalu ketakterdugaan sirkuit itu berlanjut. McLaren harus rela kehilangan 10 poin, gara-gara segel FIA di boks ECU Mika Hakkinen copot.
Empat tahun lalu, Osterreichring berubah nama menjadi A1-Ring, diiringi sederet penerapan berbagai fasilitas modern. Namun dari dulu sampai sekarang, titik paling menarik untuk ditonton adalah Castrol Curve. Tikungan pertama selepas start itu dijadikan tempat ideal pembalap buat menyusul.
Sementara Remus Kurve yang sempit sering menjadi lokasi kecelakaan. Tengok saja pada 1998, ketika 3 pembalap (Pedro Diniz, David Coulthard, dan Mika Salo) sekaligus bertabrakan lantaran tak ada yang mau mengalah.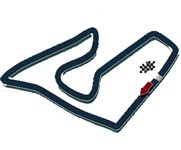 Circuit Description, History, Facts and Figures
For a small nation with no major automotive industry, Austria can boast a surprising tradition in grand prix racing. The very first Austrian Grand Prix was run in 1964 at Zeltweg Airfield, a couple of kilometres from its present home. It was won by Lorenzo Bandini in a Ferrari. As for local drivers, their F1 involvement goes back unbroken for three decades and the man who started it all was Jochen Rindt.

After the death of his parents during a bombing raid on Hamburg, Rindt grew up with his grandmother in Graz. A visit to the Nurburgring in 1961, when he was 19 years old, was enough to ignite a burning ambition to be a racing driver. His first big win came in the 1965 Le Mans 24 Hour race and his record of 29 Formula 2 victories has never been beaten.

Right from the start he was very quick in a Formula 1 car, but it was not until he joined Lotus that he had a machine capable of showing off his talents. Rindt, who was killed in practice for the 1970 Italian GP has the sad distinction of being the sport's only posthumously crowned world champion.

Rindt's school friend Helmut Marko took up the baton. Although less successful, he played an important part in his country's racing history by going on to manage the careers of just about every racing driver to come out of Austria. However, no one but Niki Lauda managed Niki Lauda! While driving for March and BRM, he would call his office regularly to ask if they had received a call from Enzo Ferrari yet.

The running joke became reality and Niki Lauda went on to win two of his three titles with the Scuderia. Lauda is one of the sport's most colourful characters. He was given the Last Rites after an horrific accident and fire at the Nurburgring. He came back from the dead to win another title and went from being a pay driver to the first one to earn over a million dollars a year. Today, the keen amateur flyer runs his own airline.

Dieter Quester, Helmut Koinig, Hans Binder, Harald Ertl, Markus Hottinger and Jo Gartner also feature on Austria's F1 Roll of Honour. After them came Gerhard Berger, charismatic and aggressive at the wheel, now in charge of BMW's F1 collaboration with Williams. Karl Wendlinger showed great potential, until a serious accident at Monaco in 1994 effectively ended his career, just two weeks after the death of fellow countryman, Roland Ratzenberger at Imola. Today, the red and white colours of Austria are flown by Benetton's Alex Wurz.

The A1-Ring circuit hosts its fourth Austrian Grand Prix this weekend. It replaces the old Osterreichring, on the same site as the current track. To many it was quite simply the best circuit in the world with a breathtaking collection of climbs, drops and high speed turns. The new layout still makes use of the natural contours provided by the Styrian mountains, but safety concerns mean that most of the ultra-quick corners have gone. However, the fresh mountain air, the excellent viewing facilities and splendid scenery make it a popular venue.

Sirkuit - 2001