Jum'at - 13/7
Latihan Bebas 1
Latihan Bebas 2
Sabtu - 14/7
Latihan Bebas 1
Latihan Bebas 2
Kualifikasi
Minggu - 15/7
Pemanasan
Balapan
Circuit information:
Round Number:
11
Race Date:
15-07-2001
Country:
Great Britain
City:
Silverstone

(click for location map)
| | | |
| --- | --- | --- |
| Circuit Name: | Silverstone | |
| Circuit Length: | 5141 m. | |
| Number of Laps: | 60 | |
| Race Length: | 308.356 m | |
| | | |
| --- | --- | --- |
| 2000 Pole Position: | Rubens Barrichello | |
| 2000 Winner: | David Coulthard | |
| 2000 Fastest Lap: | Mika Häkkinen | |
GAMBARAN SIRKUIT
Gambaran sirkuit
ini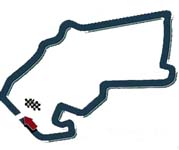 Circuit Description, History, Facts and Figures
Along with the Italian Grand Prix, the British event can claim to be the longest running fixture on the official Formula One calendar. The Drivers' Championship celebrated its fiftieth anniversary last year and so did the British Grand Prix.

While France can claim to have invented the sport, Great Britain has had the greatest influence on its development. 181 of the 649 grands prix held to date have been won by British drivers, over twice as many as joint second placed countries, France and Brazil. Twelve of the fifty world championships were claimed by British drivers, dating back to Mike Hawthorn's 1958 title at the wheel of a Ferrari.

Four drivers can regard this weekend's race as their home event, but the British influence goes much deeper than that as seven of the eleven teams taking part are based here, including The West McLaren Mercedes team, while the remaining four equipes all employ British staff to a greater or lesser degree. To find out how this came about, you have to go back to the end of the Second World War. Pre-war, motor racing had been a popular hobby for the well-heeled, but many of the classic race tracks like Brooklands were now derelict and overgrown with weeds.

However, there were many military airfields and keen racers immediately saw their potential as race tracks. Motor clubs were set up, the most famous being the 750 MC which is still going strong today and faced with a shortage of cars, engineer/drivers built their own with whatever materials were available. Necessity being the mother of invention, as Frank Zappa reminded us a couple of decades later, a tradition of race car engineering was born, which would form the basis of what is now a multi-million pound industry.

Today, as well as the seven Formula One teams based in Britain, over six hundred engineering companies and around thirty thousand people owe their jobs to Formula One. Broadening the search to include peripheral activities like catering, marketing and the media the number of people involved is reckoned to hit the fifty thousand mark. All that hard work reaps its reward, generating a turnover of around two billion pounds, much of it helping Britain's export drive.

Silverstone was one of those early pioneering airfields-cum-race-tracks and it is worth noting, at a time when the circuit is fighting for the right to stage the British GP that it is at the epicentre of what can be regarded as motor racing's very own Silicon Valley. Six of the seven British-based teams can all get their cars and personnel from factory to track in around half an hour- but not on race day of course, when the famous Silverstone traffic jam at least serves to prove the continuing popularity of the sport in a country that has done so much to keep it fit and well.

Sirkuit - 2001