Jum'at - 8/6
Latihan Bebas 1
Latihan Bebas 2
Sabtu - 9/6
Latihan Bebas 1
Latihan Bebas 2
Kualifikasi
Minggu - 10/6
Pemanasan
Balapan
Circuit information:
Round Number:
8
Race Date:
10-06-2001
Country:
Canada
City:
Montreal

(click for location map)
| | | |
| --- | --- | --- |
| Circuit Name: | Gilles Villeneuve | |
| Circuit Length: | 4421 m. | |
| Number of Laps: | 69 | |
| Race Length: | 305.049 m | |
| | | |
| --- | --- | --- |
| 2000 Pole Position: | Michael Schumacher | |
| 2000 Winner: | Michael Schumacher | |
| 2000 Fastest Lap: | Mika Hδkkinen | |
GAMBARAN SIRKUIT
Gambaran sirkuit
ini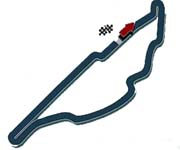 Circuit Description, History, Facts and Figures
The Canadian Grand Prix can trace its history back to 1967, the first of eight times it was held at Mosport Park in Toronto. Two races ran at Mont Tremblant, a ski resort up country from Montreal, before the growing popularity of the late Gilles Villeneuve saw the grand prix relocate to its current venue, just a short metro ride from the centre of Francophone Montreal in 1978. This cosmopolitan city loves to party in summer, with jazz, dance and comedy festivals, but the Mutha of them all was "Expo '67," a gigantic world fair, celebrating "The Peoples of the Earth." "It was the summer of love and the summer of Expo," wrote a local hippy poet.

While making love remained popular, making Expo fizzled out, the facilities being used for the 1968 Olympic Games, before the roads on the Ile Notre Dame site were transformed into a race track. Today, all that remains is the geodesic dome which was the USA Pavilion and the Olympic Rowing Basin, which used to host an impromptu raft race between the F1 teams. These days, mechanics fill their few spare moments fishing in it, or feeding the squawking sea- gulls which flap over from the Saint Lawrence Seaway which runs alongside the track.

Ask F1 aficionados to name any Canadian grand prix drivers and once they get past Villeneuve "pere et fils," you can hear a pin drop in the ensuing silence. By our reckoning, there were at least nine others; most of them only drove in their home event and all were singularly unsuccessful! First off came Peter Ryan who came 9th in his only race, the 1961 US GP. Eppie Wietzes ran a Lotus in the '67 and '74 Canadian events; Bill Brack tried his hand in '68, '69 and '72, failing to qualify on two occasions.

George Eaton drove in '69 and did a whole season with BRM in 1970, finishing tenth at home. John Cordts retired from the Canadian race in '69, his only F1 drive and is now living in a log cabin somewhere! Al Pease deserves an award for tenacity, persevering with an ex-Dan Gurney Eagle in three Canadian GPs from '67 to '69. He was 46 when he made his F1 debut. Peter Broeker ventured far from home to take part in the USA GP in '63 at the wheel of a Stebro, while Hollywood-born Mike Fisher tried two races in the Lotus Jim Clark used to dominate the 1965 championship, but sadly the magic did not rub off. In more recent times, Alan Berg tried his hand. He had shown well in the British F3 championship in the year that Martin Brundle and Ayrton Senna dominated the category. Berg drove the '86 season for Osella; enough to put anyone off the sport.

He now races successfully down Mexico way. And of course there was Jacques Villeneuve. No, not the 1997 World Champion, currently driving for BAR, but his 46 year old uncle. Considering the boy was named after him, Jacques the elder could have chosen his words more carefully when he used the local Montreal press to slag off his nephew's achievements a few years back. The older man failed to qualify at his three attempts at grand prix stardom, although he did win one Indycar race.

No record of Canadian drivers is complete without Gilles Villeneuve. 67 grands prix and six wins does not begin to convey the excitement of watching the French Canadian in action. He came to motor racing via snowmobiles and drag racing. His natural talent led to a one-off drive for McLaren in the 1977 British GP where he spun - a lot. Ferrari snaffled him up and he never left the Scuderia. In fairy tale style, his first win came in 1978 at this circuit, which now bears his name.

Two moments stand out: an unbelievable battle with Rene Arnoux in a Renault in the 1979 French GP at Dijon, when the two men raced side by side, banging wheels for a couple of laps and the time when he out-qualified team-mate Jody Scheckter in the wet for the USA GP by a staggering eleven seconds. "Too fast to live, too young to die," has never been more apt and 18 years after his death during practice for the 1982 Belgian GP, the tifosi from Monza to Montreal still hang out banners with "Gilles Villeneuve, Ferrari" and his legendary Number 27.

Sirkuit - 2001