Jum'at - 31/8
Latihan Bebas 1
Latihan Bebas 2
Sabtu - 1/9
Latihan Bebas 1
Latihan Bebas 2
Kualifikasi
Minggu - 2/9
Pemanasan
Balapan
Circuit information:
Round Number:
14
Race Date:
02-09-2001
Country:
Belgium
City:
Spa

(click for location map)
| | | |
| --- | --- | --- |
| Circuit Name: | Spa-Franchorchamps | |
| Circuit Length: | 6968 m. | |
| Number of Laps: | 44 | |
| Race Length: | 306.592 m | |
| | | |
| --- | --- | --- |
| 2000 Pole Position: | Mika Häkkinen | |
| 2000 Winner: | Mika Häkkinen | |
| 2000 Fastest Lap: | Rubens Barrichello | |
SIRKUIT LELAKI SEJATI
Belum dianggap lelaki sejati sebelum berhasil menaklukkan Spa-Francorchamps. Kenapa? Selain terpanjang dan terlengkap karakter tikungannya, Spa juga memberi siksaan bagi pembalap.
Heinzt-Harald Frentzen, andalan tim Jordan mengaku, "Settingnya susah setengah mati, dan kita harus menahan gaya sampai 5G". Belum sempat menarik napas selepas garis start, mobil harus direm habis-habisan dari kecepatan 270 km/jam sampai cuma 60 km/jam untuk menyikat La Source Hairpin.
Memang hairpin itu tikungan terpatah disini. Tapi handycap selanjutnya tak kalah mengerikan. Eau Rouge yang berkontur seperti ular itu, harus dilibas 270 km/jam. Padahal, karakternya blind corner, alias tidak bisa melihat tikungan di depan. "Dibutuhkan insting dan feeling buat belokan ini", anjur Michael Schumacher yang 4 kali tabrakan di sirkuit sini.
Straight bernama Kammel disikat 320 km.jam, dan di ujungnya ada chicane Malmedy. Eh, cuma 200 meter di depan, ketemu hairpin lagi, Rivage. Di sinilah Mika Hakkinen melakukan aksi spektakuler menyusul Michael Schumacher - sekaligus Ricardo Zonta - tahun lalu.
Tikungan Pouhon yang setelahnya, relatif gampang dan lebar. Bisa 250 km/jam sebelum kemudian masuk Fagnes dan Stavelot. Karakternya nanggung dan membuat dilema tersendiri. Terlalu cepat melintir, terlalu pelan bisa tersusul.
Unik adalah Bus Stop Chicane. Selain bentuknya yang mirip halte bus, di pinggir jalan terbentang tembok yang menanti pembalap melakukan kesalahan. Secara umum, sirkuit 6,987 km ini tergolong indah lantaran konturnya yang berbukit.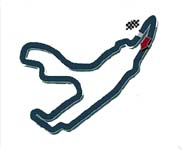 Circuit Description, History, Facts and Figures
The Belgians have always been mad about motors in any shape or form. It is this eclectic attitude to the sport and diversity of interest, which includes everything from Moto-X to Rallying to Sports Cars and Formula 1, that goes a long way to explaining why Grand Prix stardom has pretty much evaded Europe's most densely populated nation. Then again, with the delights of the Spa- Francorchamps circuit on their doorstep, perhaps the locals simply preferred to switch disciplines and race there every week.

Belgium's most successful grand prix driver to date is Jacky Ickx. The son of a motoring journalist, he first made his name in motorcycle trials and by the age of 22, he was competing in Formula 1. The world championship seemed like a formality, such was his composure, car control and speed, especially in the wet. While rain did indeed provide the backdrop to the most memorable of his eight wins, his championship potential was never quite realised, although he did finish as runner-up in 1969 and 1970.

He is best remembered as one of the greatest sports car drivers of all time, winning the Le Mans 24 Hours on six occasions. In so doing, he continued something of a Belgian tradition in the French classic. Former World War II paratrooper, Olivier Gendebien, like Ickx a Ferrari grand prix driver, won Le Mans four times. In 1960, he was partnered by another fellow countryman, Paul Frere, who combined racing with a successful career as a respected motoring journalist.

Although none of the twenty or so Belgians on the F1 roll-call has ever laid claim to the World Championship, the country can boast the most beautiful race track on the planet at Spa-Francorchamps. Belgium was one of the seven rounds of the inaugural Formula 1 World Championship back in 1950. Spa has hosted more grands prix than any other circuit except Monza, providing a spectacular setting for the Belgian round on 35 occasions including this year's event. Among the many great ones, the 1966 race stands out as a seminal moment. A young Jackie Stewart was seriously injured after crashing his BRM in the rainy conditions. The experience sparked off his life-long campaign to increase safety in the sport, the positive effects of which are still with us today.

The original Spa-Francorchamps track was around 14 kilometres in length, made up of public roads. Eventually, the speeds of the modern grand prix car meant it was too dangerous to race on and for 1971 the grand prix was switched to Nivelles and the following year it found a regular home at Zolder. When the event returned to Spa in 1983, it was to a much reduced track length, although it is still the longest one on the GP calendar. The King of Spa is Ayrton Senna, who won here five times, four of them consecutively. Jim Clark has four Belgian victories to his name, all of them consecutively and all of them on the old circuit. Of the current generation, Michael Schumacher also has four wins to his credit, including his first ever F1 win in 1992. He was also disqualified for a technical infringement after crossing the line first in 1994.

Formula One made two trips to Spa in 1985. With a reputation for wet weather, this year a freak heatwave hit the area in June when the Belgian Grand Prix should have been held. The track surface could not cope with the heat and the race had to be rescheduled for September.

Sirkuit - 2001